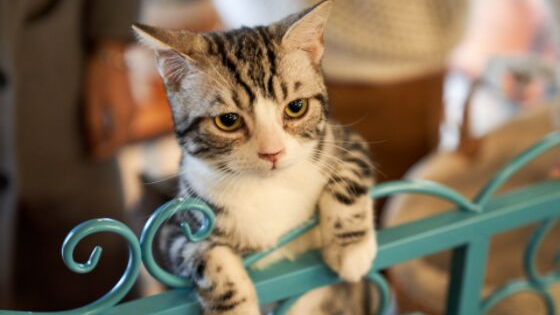 If you are thinking about getting a kitten, or have recently selected one, you may find yourself wondering how to keep it active in an apartment. While kittens are quite energetic, they do not need much room to run, which makes them a great apartment pet. Here are a few ways to keep your kitten active and stimulated in your apartment.
Add an Elevated, Climbing Feature
Kittens love to climb and jump. Providing them with an elevated climbing feature, such as a cat tree, gives them a safe space to climb, jump and reach elevated heights. Make sure the elevated climbing feature is designed for cats and is wide enough to hold your kitten as he or she grows.
Give Them Something to Claw
Cats of all ages love to claw. It helps them to remove the dead outer layers of their claws. If you fail to provide them with something to claw, you may find that they go for your couch or carpet in your home. There are different types of cat clawing mechanisms, including scratching boxes and cat scratching posts. Experiment with different types until you find something your kitten will claw.
Be Sure to Play With Them
Kittens love to play. They love to chase items and explore. Purchase toys for them, such as cat balls, fishing pole toys or crinkle tubes. Then make sure to set aside time to play with them. This encourages them to play with the toys that are safe for them and helps them to burn off some of their energy. If you don't play with a kitten, they may find a way to keep their life exciting and play with items that are not safe for them.
Make Space for Them to Look Out a Window
Lastly, make space for your kitten to look out of a window. You may want to create a seating area for them, when possible. Kittens and cats love to look outside and soak in the sun. Setting up an area for them by a window provides them with the space they need to do this activity.
If you love pets, it is important to find a pet-friendly apartment complex. When you are looking for apartments in Charlotte, North Carolina, turn to Ashford Green Luxury Apartments. Not only are we a pet-friendly community, but we offer spacious, luxury apartments as well. Visit us today to tour our apartments and community.